Content
Absolute resolution (in pixels)
Relative resolution in PPI / DPI
General
Determining the optimal or even maximum format of an image file depends on various factors of your file, as well as of course subjective factors, and the future application or image location.

Absolute resolution (in pixels)
The basic requirement in the first step is a sufficient (absolute) resolution of your file. This helps you to make a purely mathematical choice of size and format.
The absolute resolution of an image reflects the number of pixels in horizontal and vertical direction, which is independent of the output size. If an image size is given in pixels, it is always the absolute size which indicates how many pixels the image consists of (e.g. 6000 x 4000 pixels = 6000 pixels wide, 4000 pixels high).

Relative resolution in PPI / DPI
Each digital image file consists of a certain number of pixels.
PPI stands for "pixels per inch". PPI describes the relative resolution of an image printed at a certain size, and refers to the number of pixels displayed in one inch (2.54 centimeters). In this aspect, one also speaks of pixel density.
DPI stands for "dots per inch" and originally comes from printing technology. The term refers to the number of physical printing dots in a printed document, the dot density when printing. For example, if a printer achieves a resolution of 1200 DPI x 600 DPI, this means that 1200 x 600 printing dots are distributed over one inch during printing.
Due to technological progress, a distinction between PPI and DPI is hardly relevant in practice. In this respect, we will only use the term DPI in the following. You will also find this designation in the specifications of your file.

Example
The following example makes absolute and relative resolution more understandable
Both displayed images have exactly the same absolute resolution of 20 x 4 pixels.
The left image has a relative resolution of 10 DPI, 10 pixels are displayed on one inch.
The right image has a resolution of 20 DPI, 20 pixels are displayed on one inch.
Despite the different DPI value, the absolute resolution has not changed. Only the output size, the printed image size, is different. The left file is twice as large in the output as the right file.
If the DPI value of an image is changed afterwards, it is not the absolute number of pixels that changes, but the number of pixels that are displayed on one inch. This affects the output size and quality when printing.
The higher the DPI value, the sharper the printed image. There is more information (in the form of pixels) on a smaller area. In contrast, if the DPI is low, the printed output will also quickly be pixelated.
Summary
Basically, the DPI value of an image file by itself says nothing about the quality of an image. In addition, the absolute resolution, the actual image size, is also decisive for the image quality. DPI and desired output size together determine what absolute resolution or what size the digital output image should have as a minimum in order to achieve a high-quality result.

Our recommendation

Upload your file to our website and select it for preview in our configurator.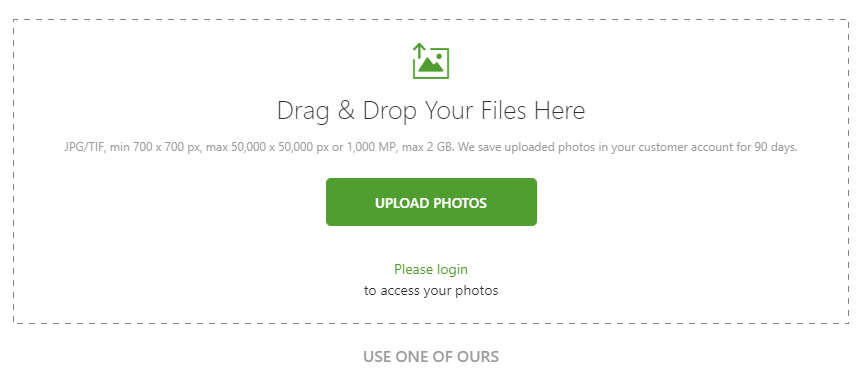 By default, our configurator will only offer you formats and sizes that can be produced mathematically in good quality with the resolution of the uploaded image file.
For coffee table books and photo calendars, you will also be shown a warning if an image file does not meet the necessary resolution for the image format selected in advance.

The preselected format here always corresponds to the "Perfect Fit" category, where the format corresponds to the respective aspect ratio of your file.

Expert Tip
Determine format yourself
If you don't want to rely on our configurator, you can also determine your maximum format yourself. Based on the resolution of your image file, you can determine up to which size your desired image will still be displayed sharply enough.
Search online for a freely available pixel calculator, enter your absolute and relative resolution, and you'll get your optimal image size in centimeters.
Then simulate your image values with the DPI count we use to print your image, you will get the most optimal format with the highest quality as measured by the DPI printed at our facility.
WhiteWall prints your image with the following output size (DPI):
Ultra HD Print 400 dpi
Photo Exposure 300 dpi
FineArt Print 300 dpi
HD Metal 300 dpi
Canvas 200 dpi
Direct plate printing 200 dpi
Fabric transfer printing 180 dpi

How far can be enlarged beyond that
Since we additionally interpolate in print processing, i.e. simulate a color gradient between 2 pixels, the most optimal result determined above is not at the same time the largest possible format with "good" quality. To what extent you exhaust this is ultimately a subjective decision.
An interpolation of 1:2 (doubling the image size) is mostly not visible with good data and quite justifiable. Example: If your own calculation has shown an optimal maximum size of only 10x10cm, a chosen target format of 20x20cm will be well justifiable and usually unproblematic.
Other factors can also depend on the motif and location. Please also read our article about the optimal image size considering the viewing distance.
The further away you stand, the less you see the interpolation.
An example for motive-dependent factors: A soft blurred foggy landscape, for example, can be enlarged better than a detailed image.
Conclusion
For the exhaustion of the maximum format there is thus no fixed default, which makes a final result calculable. However, the factors and calculated values described in this article will give you a good, initial feeling as to which format is optimal for your file, your subject and your future image location.
If you are still unsure, we recommend that you order a pure print of the future motif and product with the "test print" option, so as not to take any risks in case of doubt.

This option is available in our configurator for the products prints and fine art prints.