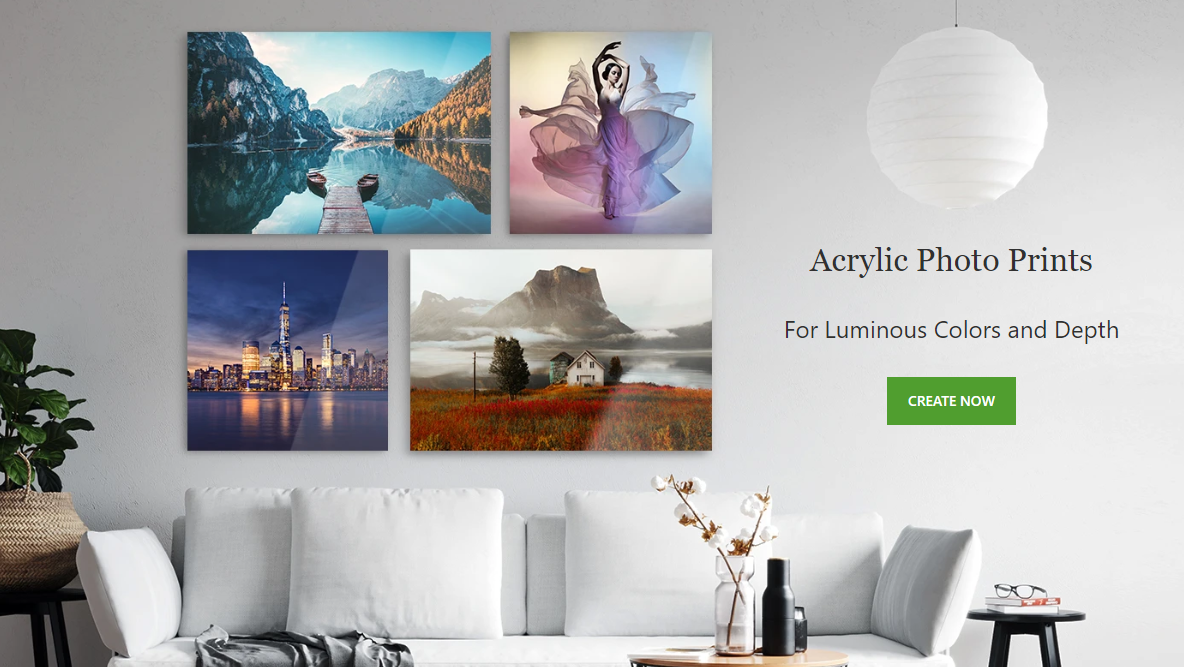 What makes an acrylic glass photo special?
The acrylic photo print consists of a photo print on the brand-name paper of your choice, it is laminated under a 1/16 in. (2 mm) to ¼ in. (6 mm) ultra-transparent acrylic plate and sealed on the back with a 0,11 in. (3 mm) aluminium plate to provide extra stability. The photo print is placed behind the acrylic plate thus delivering a unique depth effect.
Why choose WhiteWall for my acrylic glass photo?
WhiteWall offers unique expertise and guarantees flawless results for your acrylic picture prints. In 2021, WhiteWall was awarded "Best Photo Lab" for the fourth time by the TIPA Awards for the quality of its products. Only WhiteWall offers customized formats and a wide range of options to make the most of the print's special features and create a truly unique acrylic photo print. Last but not least, WhiteWall offers expert advice, guaranteeing the best possible service at all times.
Which subjects work best for an acrylic glass photo?
Acrylic glass produces particularly vivid colours and gives the photo a unique depth-of-field effect. It is particularly recommended for brightly coloured prints, such as natural landscapes or underwater photography.
What sizes and formats are available for photos on acrylic glass?
For your acrylic picture prints, WhiteWall offers you standard or made-to-measure formats, printed by the millimeter, to best respect the original dimensions of your photo. Depending on your subject, choose a square format, 2:3, 3:4, DIN, panorama, etc. You can print your photo under acrylic with a minimum size of 3,9 x 3,9 in. (10 x 10 cm) and a maximum size of 114.1 x 70.8 in. (290 x 180 cm). The maximum format depends on the finish and options selected for your print. Please check the comparison table above to see the maximum sizes.
How do I create and order my acrylic glass photo?
You can create your acrylic print online via the configuration tool. Just transfer the photo you wish to enlarge to acrylic. Then choose the paper and select the options from those available during configuration, and confirm your order..
Can I get advice before ordering an acrylic glass photo?
Benefit from expert advice at WhiteWall. Our advisers are available to answer all your questions about your design, the choice of material and the finishes for your acrylic print. You can also discover all the WhiteWall products in our stores and meet our advisers for personalized assistance.
What options do I have for my acrylic glass photo?
For your acrylic photo print, WhiteWall offers you several options, such as the choice of paper (Fuji or llford) for your Photo Print under Acrylic Glass and the special paper finish which best suits your design. Choose ultra HD for designs rich in detail or metallic for urban landscapes taken at night, for example. You can also select the thickness of the acrylic glass plate (1/16 (2 mm), 1/8 (4 mm) or ¼ in. (6 mm)), the acrylic finish (glossy for a vibrant picture or matte for a more discreet rendering without reflections). Finally, you can add a little style with a customized photo frame from the WhiteWall workshop. For example, opt for the Floater Frame or the Slimline Case, a discreet border that subtlety frames your photo print. Furthermore, take advantage of an exclusive WhiteWall feature: you can have your photo printed under acrylic in a special format, such as a round or polygonal shape.
What are the production and delivery times for an acrylic glass photo?
For acrylic glass prints, it will take about 9 working days to produce and deliver your print.
How do I hang my photo behind acrylic glass?
A system of wall fixings is supplied with the print to ensure your photo receives optimal exposure. You can choose from a selection of metal rails or a screw system.